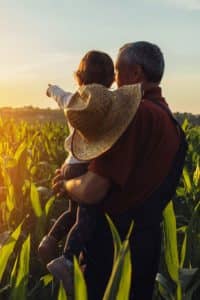 Helping Farm's Throughout The Mid-atlantic
The history of so many American families are rooted in the farms and farmland across our great country. Thankfully, today's farmers are still passionate about providing food and nourishment for all Americans.
We recognize that farming is hard work but choosing an experienced insurance advisor, shouldn't be!
We know that every farm operation is as different as the farmers who own them. Whether you're growing fruits and vegetables, raising livestock, poultry farming or growing grapes to produce wine, we have the depth and scope to find just the right coverage.
Experienced Agents, Community Focused
Headquartered in White Marsh, MD, Redmer Insurance Group is about building relationships. We take time to listen and understand your farm operation and your specialized insurance needs. Then, we customize an insurance plan to protect your livelihood and your family from unforeseen risks.
Experience You Can Trust… We have and you can count on it!
Property Coverage
Home
Farm Buildings
Farm Equipment
Household Personal Property
Livestock
Liability Coverage
Premises & Operations Liability
Products & Completed Operations
Contractual Liability
Cyber Liability
Liability involving the hiring of independent contractors
Additional Resources: